February 28th, 2015
Trying something new; a lot of layers using gel medium...to enhance softness; fuzziness. To date, I have not used much of this in my work, as I have been fascinated by hard edges. I still am, but I am attempting to combine the two together. I think it will give a less clinical impression.
January 10th, 2013
My New Year's Resolution is to keep this site updated! I have been juggling three different sites, and to be honest, one of them was causing me so much grief that I just stopped trying to keep up altogether. No more. Today I have added this new painting called "Isle of Capri." It's unusual for me in that I didn't paint the water of the Mediterranean from the photo that was taken. The truth is, the water didn't look all that interesting on this particular day. There were fires on Vesuvius which made the sky a little dreary, and therefore the water was kind of blah as well. However, the sky had a hazy cast to it and the sun was still bright enough to really show off these morning glories.

I have two other paintings to upload which are not sold. The trick is getting them photographed! I am still a novice when it comes to that, so getting the right exposure to reproduce them as giclees or prints is my weakness. I am happier with a paintbrush in my hand. Ha.
February 19th, 2011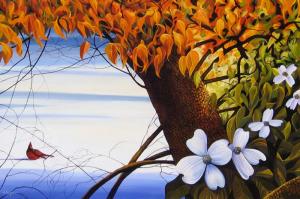 The Painted Violin Auction is March 20th. This will be an exciting event and I am looking forward to it. This will benefit the Denver Youth Orchestra. Seventeen painted violins will be auctioned that evening.

I also posted a commissioned piece to the gallery today, called "Four Seasons in One Day." It is a departure for me; a little fantastical. It basically represents all the seasons in one painting. Take a look.

I have several other paintings I have yet to post to this site. I have become more exacting in the photography process, and I want them to be represented as perfectly as possible...and I will need to hire someone to do this for me. My previous photographs of my artwork are good for small reproductions, but I want to go bigger. So until then...

Hunter
May 29th, 2010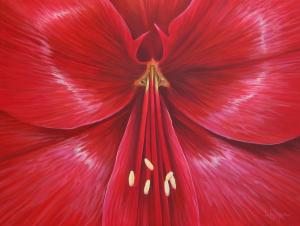 Hey everyone,
It's been awhile since I've updated any of my websites. I am going to try and keep this one updated the most, since it's the most visited.
Anway, the latest news is that I have been invited to participate in the 2011 Painted Violin Project. This is a fundraiser for the Denver Young Artists Orchestra. Artist portfolios are reviewed by a panel of artists, gallery representatives, and art lovers. The selected emerging, regional and national artists receive a violin that has been donated for this purpose, and then create original works of art on the violin (as a blank canvas). All of the violins will be sold, auctioned or raffled during various Painted Violin events during the 2010-2011 Season. Painted Violin Artists are invited to sign limited edition print reproductions of their painted violin, which will be sold to benefit DYAO.

I am very excited to be part of this event! Stay tuned as I keep you updated of my progress.

Right now, I am still working on prepping the violin for painting. You can't simply just paint onto the old violin; there has to be a good paintable surface for the paint to adhere to. So I have been sanding and coating it with a white finish so that the new paint really stands out the way it should.

That's all for now!

Hunter